Posts for tag: crowns
By ULTIMATE DENTAL STUDIO
January 15, 2019
Sometimes a chipped, fractured, or badly decayed tooth is all it takes to damage an otherwise healthy smile and make it difficult to eat and even keep up with your oral hygiene. Dental crowns help to improve both the cosmetic and functional aspects of decayed or damaged teeth and can makeover your smile in just a few office visits. Dr. Jeff Kim, the dentist at Ultimate Dental Studio offers general, periodontal, and cosmetic dentistry services in Port Orange, FL.
A New Smile with Dental Crowns in Port Orange, FL
Dental crowns cover a damaged tooth and restore lost tooth surface, improving your smile and saving teeth that would otherwise need to be extracted due to severe decay or trauma in many cases. Crowns also replace missing teeth through a dental bridge.
The Difference Between Crowns and Veneers
Both options improve the appearance of damaged and fractured teeth, but veneers consist of a thin layer of porcelain or composite resin material that is bonded onto the surface of the tooth to change the size, shape, or color for cosmetic purposes. A crown is literally a cover that restores lost tooth surface or an entire tooth, and is more appropriate for significant damage to large portions of a tooth.
Crowns are used in a number of scenarios including:
To restore a broken or severely decayed tooth
To replace a missing tooth through a dental bridge
To strengthen a fractured tooth
To cover repair a cosmetically damaged or unattractive tooth
Caring for Dental Crowns
Like your natural teeth, dental crowns require thorough oral hygiene care and regular dental exams in order to last. With proper care, the typical crown can last for many years.
Find a Dentist in Port Orange, FL
For more information about dental crowns and other restorative and cosmetic dentistry options, contact Ultimate Dental Studio by calling (386) 322-4867 to schedule an appointment with Dr. Kim today.
By Ultimate Dental Studio
June 10, 2017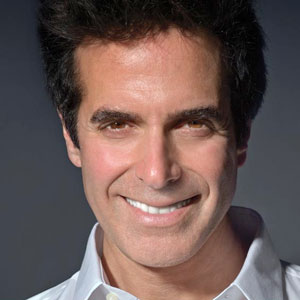 You might think David Copperfield leads a charmed life:Â  He can escape from ropes, chains, and prison cells, make a Learjet or a railroad car disappear, and even appear to fly above the stage. But the illustrious illusionist will be the first to admit that making all that magic takes a lot of hard work. And he recently told Dear Doctor magazine that his brilliant smile has benefitted from plenty of behind-the-scenes dental work as well.
"When I was a kid, I had every kind of [treatment]. I had braces, I had headgear, I had rubber bands, and a retainer afterward," Copperfield said. And then, just when his orthodontic treatment was finally complete, disaster struck. "I was at a mall, running down this concrete alleyway, and there was a little ledge… and I went BOOM!"
Copperfield's two front teeth were badly injured by the impact. "My front teeth became nice little points," he said. Yet, although they had lost a great deal of their structure, his dentist was able to restore those damaged teeth in a very natural-looking way. What kind of "magic" did the dentist use?
In Copperfield's case, the teeth were repaired using crown restorations. Crowns (also called caps) are suitable when a tooth has lost part of its visible structure, but still has healthy roots beneath the gum line. To perform a crown restoration, the first step is to make a precise model of your teeth, often called an impression. This allows a replacement for the visible part of the tooth to be fabricated, and ensures it will fit precisely into your smile. In its exact shape and shade, a well-made crown matches your natural teeth so well that it's virtually impossible to tell them apart. Subsequently, the crown restoration is permanently attached to the damaged tooth.
There's a blend of technology and art in making high quality crowns — just as there is in some stage-crafted illusions. But the difference is that the replacement tooth is not just an illusion: It looks, functions and "feels" like your natural teeth… and with proper care it can last for many years to come.  Besides crowns, there are several other types of tooth restorations that are suitable in different situations. We can recommend the right kind of "magic" for you.
If you would like more information about crowns, please contact us or schedule an appointment for a consultation. You can also learn more about this topic by reading the Dear Doctor magazine articles "Crowns & Bridgework" and "Porcelain Crowns & Veneers."
By Ultimate Dental Studio
October 19, 2016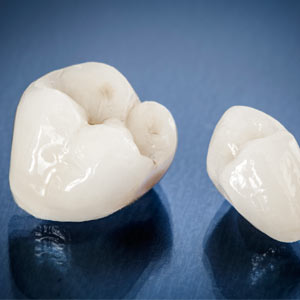 If you're in need of a crown to cover a damaged tooth, you have a lot of options. But before you choose, you need to know what you want. Would you be happy with an affordable, well-fitting crown that holds up well and allows you to chew comfortably? Or are you interested in a more expensive one that also provides the most attractive result?
Crowns have been a mainstay in dentistry for generations. The first were made of metals like gold or silver — durable and effective but not very attractive.
In time, a ceramic material known as dental porcelain began to make its appearance in crowns. Dental porcelain could be fashioned to resemble the color and texture of natural teeth, but it had a significant drawback: it could be brittle and subject to shattering under chewing pressure.
This problem was somewhat addressed with the innovation of a crown with a metal substructure fused with an outer layer of porcelain. These porcelain-fused-to-metal (PFM) crowns combined the best advantages of both materials: strength and life-likeness. Up until around the mid-2000s, PFM made up over 80% of crowns.
But later porcelains continued to improve in strength, beginning in 1993 with the introduction of a Lucite-reinforced material. Newer formulations like lithium disilicate or zirconium oxide (now considered the strongest porcelain) have made all-porcelain crowns a viable option. Today, an estimated 60% of new crowns are all-porcelain.
From an appearance standpoint, all-porcelain crowns achieve the best results. The most realistic crown can be costly — not because of the material but the level of artistry required. A skilled dental technician will spend several hours, including brushing on as many as fifteen coats of liquid porcelain to the crown, to achieve the most life-like outcome. Your insurance plan, if you have one, will most likely not pay as high a percentage for that type of crown.
In the end, it's your decision as to what type of crown you wish to have. We'll help you weigh your options and decide what's best for you and your budget.
If you would like more information on crown options, please contact us or schedule an appointment for a consultation.