Posts for: February, 2021
By Ultimate Dental Studio
February 20, 2021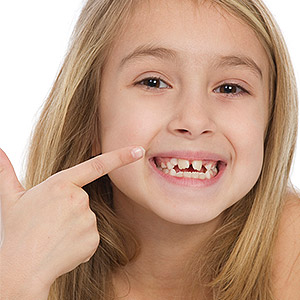 If your child has seen the dentist regularly, and brushed and flossed daily, there's a good chance they've avoided advanced tooth decay. But another problem might already be growing right under your nose—a poor dental bite (malocclusion).
A dental bite refers to the way the upper and lower teeth fit together. In a normal bite the teeth are in straight alignment, and the upper teeth slightly extend in front of and over the lower when the jaws are shut. But permanent teeth erupting out of position or a jaw developing abnormally can set the stage for a malocclusion.
Although the full effects of a malocclusion may not manifest until later, there may be signs of its development as early as age 6. If so, it may be possible to identify a budding bite problem and "intercept" it before it goes too far, correcting it or reducing its severity.
Here are 6 signs your school-age child could be developing a malocclusion.
Excessive spacing. If the spacing between teeth seems too wide, it could mean the size of your child's teeth are out of proportion with their jaw.
Underbite. Rather than the normal upper front teeth covering the lower, the lower teeth extend out and over the upper teeth.
Open bite. There's a space or gap between the upper and lower teeth even when the jaws are shut.
Crowding. Due to a lack of space on the jaw, incoming teeth don't have enough room to erupt and may come in misaligned or "crooked."
Crossbites. Some of the lower teeth, either in front or back of the jaw, overlap the upper teeth, while the rest of the upper teeth overlap normally.
Protrusion or retrusion. This occurs if the upper front teeth or jaw appear too far forward (protrusion) or the lower teeth or jaw are positioned too far back (retrusion).
Besides watching out for the preceding signs yourself, it's also a good idea to have your child undergo a comprehensive bite evaluation with an orthodontist around age 6. If that does reveal something amiss with their bite, intervention now could correct or lessen the problem and future treatment efforts later.
If you would like more information on children's bite development, please contact us or schedule an appointment for a consultation.
By Ultimate Dental Studio
February 10, 2021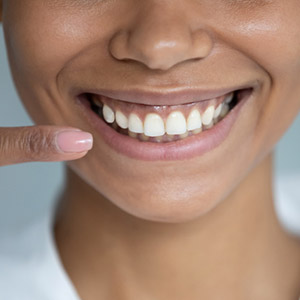 Enamel is the hardest substance in the human body, and for good reason—it's your teeth's first line of defense against wearing and harmful oral bacteria. But although enamel can "take a licking and keep on ticking," it can lose its mineral content, soften and eventually erode to expose the teeth to bacteria.
Here are 4 tips for protecting your enamel so it keeps on protecting you.
Practice sound brushing techniques. Brushing is necessary for removing bacterial plaque that can trigger dental disease. But how you brush could prove not only ineffective, but also harmful to your enamel. So, be sure you're brushing all tooth surfaces, but not too forcefully or too often (twice a day is enough)—otherwise, you could wear down enamel and damage your gums.
Wait to brush after eating. The acid levels in the mouth go up during eating, causing an immediate softening of enamel. But saliva then goes to work neutralizing acid and helping to restore enamel's mineral content. Since it takes saliva about thirty minutes to an hour to complete this task, wait on brushing at least that long. Otherwise, you might remove tiny traces of temporarily softened enamel.
Avoid eating right before bed. While we sleep, our saliva flow decreases until we wake up. If you eat just before bed, you may not be giving your saliva enough time to neutralize acid before it "goes to sleep" with you for the night. So, give your saliva ample time to neutralize any remaining acid by not eating anymore at least an hour before you turn in.
Limit drinking acidic beverages. Some of our favorite drinks—sodas, energy and sports drinks, and even some juices—can be high in acid. To protect your enamel, reduce your consumption of these types of beverages in favor of water or milk (the calcium in the latter will also benefit your enamel). When you do drink acidic beverages, use a straw to minimize contact of the fluid with your enamel.
Healthy and strong enamel is the key to healthy and strong teeth. It's worth taking these steps to protect this important defense against destructive tooth decay.
If you would like more information on personal dental care, please contact us or schedule an appointment for a consultation. You can also learn more about this topic by reading the Dear Doctor magazine article "6 Tips to Help Prevent the Erosion of Tooth Enamel."